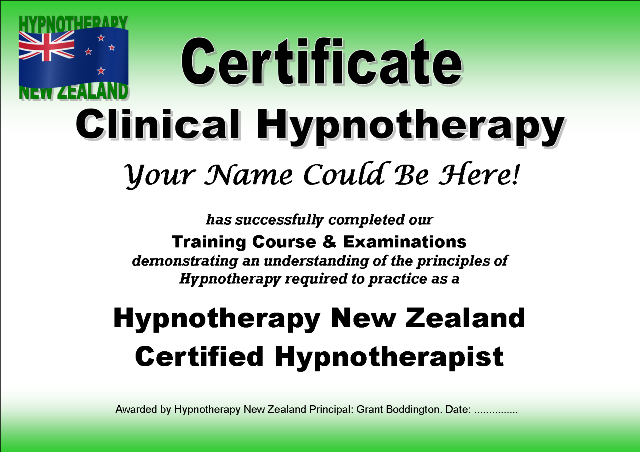 New Zealand's most
Affordable & Focused Hypnotherapy Training!

This is a Supported Home Study Hypnotherapy Training Course!
Your
Personal Tutor
is Grant Boddington, HNZ Registered Clinical Hypnotherapist.
Using the Hypnotherapy course manual you study at home in your own time and practice the techniques on your friends and family while you learn. If you feel you would benefit from personal support or assistance at any time, Grant is usually just an email, text message, or phone call away - offering the absolute best of support and assistance, whenever you might require it.
Grant Boddington's wonderfully friendly support has become
almost legendary
in the Hypnotherapy profession - and while it may only take a few weeks to complete this course, he offers his free personal support while you learn - and then free personal support as a fellow Hypnotherapist once you have qualified!
The Examinations
There are two simple, open book examinations for you to complete during this course. Grant will call you
(within just a day or two of receiving each from you)
to discuss your progress and offer the benefit of his 30 years in the profession, to assist you with fine-tuning of your new Hypnotherapy skills.
Module 1 Exam
This is a short and simple online multi-choice examination; covering the absolute basics of Hypnotherapy and becoming a Hypnotherapist. Grant values the opportunity to contact you for a chat after he has assessed your answers, to offer you lots of useful tips and encouragement on your progress.
Module 2 Exam
On acceptance of your 2nd examination
(written)
, you will qualify as a Hypnotherapist and receive your
HNZ Certificate in Clinical Hypnotherapy
. You can then legally practice as a Hypnotherapist in New Zealand and in many other countries.
Top Tips for Choosing a Hypnotherapy Course

There are many factors that may influence your decision of which Hypnotherapy training course and tutor is right for you. You'll probably already have some idea as to why you want to learn Hypnotherapy and to what level. Maybe it's as a personal life-skill; to complement an existing natural therapy business; or to practice solely as a professional Hypnotherapist.

Whatever your reason, there is probably a course to suit your needs. With some training establishments you can start with a gentle home-study course to test the waters. You can even begin a career in Hypnotherapy with the better ones - as long as it's a properly structured Homestudy Course with support, examinations and a certificate on completion.

Or, a Classroom Course may be more your style and is certainly a popular option - especially if you're already certain about learning Hypnotherapy and have a good budget. Whatever your thoughts, Grant's Tips & Cautions (gained after nearly 30 years in the Hypnotherapy profession) may assist you in your choice of a properly structured course and more effective tutor.

Read Grant's Tips & Cautions for Choosing a Hypnotherapy Course here
Contact Grant Boddington
Call, chat, or text Grant Boddington 8:00am - 8:00pm - 7 days for more information on the newest, most comprehensive version of this Hypnotherapy training course.

Grant Boddington
HNZ Registered
Clinical Hypnotherapist




Telephone:

06 345 2000


Mobile:

021 447 481



Email:

grant@grantboddington.com

134 Heads Road


Wanganui 4501


New Zealand
Map

---
GL Boddington
Copyright © 1996